Chandler Equipment Company located in Gainesville, Georgia has been in business since 1969. We take pride in manufacturing quality agricultural fertilizer and lime spreaders, fertilizer tenders, litter conveyors and litter spreaders.

Chandler Equipment is also a leader in Variable Rate Application and Guidance Systems we carry products from Raven Industries.

Applying materials properly such as fertilizer, lime and even poultry litter is more important today than ever. Let Chandler Equipment show you how to improve your application of these different materials utilizing Ravenís complete line of control systems, field computers and guidance systems. We appreciate the opportunity to assist you.

Website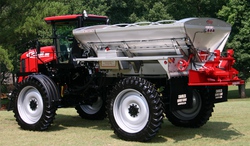 New Chandler Edition Vector 300 with 13' FTLH-EXW Fertilizer and Lime Spreader Spreader Patterns: 90' Fertilizer 60' Lime Raven Viper Pro with SmarTarx Steering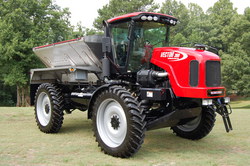 Chandler Edition Vector 300
Raven Cruizer See in the Jim Graham building booth 219 for special showing prices on Raven Products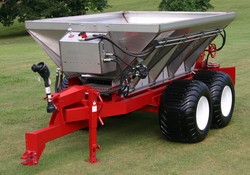 Model 30 PTT-FT EXW (10-ton Fertilizer, 12-ton Lime)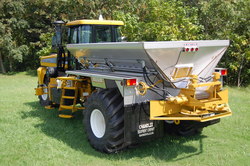 Chandler FTLH-EXW Fertilizer and Lime Spreader Spread Patterns up to 90' Fertilizer and 60' Lime Variable Rate Application Capability Available in Mild Steel, 409 and 304 Stainless Hopper Construction 24" -304 Stainless Steel Mesh Type Chain or Belt Over Bar
Chandler Litter Conevyor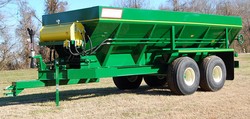 Chandler Litter Pull Type Spreader The most versatile spreader on the market Available in Lengths from 12'-26' Variable Rate Application Capability 45 or 52 Degree Slope Sides Wider Spread Patterns (up to 60' using our 30"Ě spinner option) Available with Standard Ribbed Implement Tires or as shown with optional Floatation Tires Optional Self-Contained Hydraulic System or Plug to Tractor hydraulic with Dual Tandem Motor Gear Case on Conveyor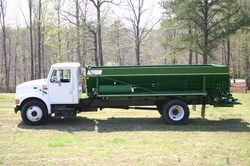 Chandler Truck Mounted Litter Spreader The most versatile spreader on the market Available in Lengths from 12'-26' Variable Rate Application Capability 45 or 52 Degree Slope Sides Wider Spread Patterns (up to 60' using our 30"Ě spinner option) Optional Self-Contained Hydraulic System or Plug to Tractor hydraulic with Dual Tandem Motor Gear Case on Conveyor Truck and Spreader Packages also available