Farm Works Software®, a division of Trimble, offers a complete range of solutions for the field and farm office. Solutions include accounting, mapping, water management, mobile computers, and more. Select from a variety of modules that can be integrated and customized to provide a comprehensive management solution for your farm.

Farm Works Information Management solutions are part of Trimble's Connected Farm™. Connected Farm is an integrated operations management solution that combines industry-leading hardware and software to increase efficiency and effectiveness for today's farming business. It enables better decision making through integrated management and information exchange across the entire farm.

Website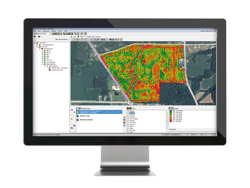 Farm Works™ Mapping software provides both basic and advanced layering functionality while maintaining a complete field record keeping system. Flexible to handle multiple types of hardware solutions, Farm Works Mapping allows you to make management decisions from yield data, soil types, soil test results, hybrids, and more.
Farm Works™ Surface software is an analysis and design tool for use with the Trimble® WM-Drain™ farm drainage solution. Surface ensures the optimal placement of tile and surface drains in both surface and subsurface drainage water management projects, helping to drain fields adequately and increase crop yields.
Farm Works™ Accounting software integrates your financial data to each field, livestock group, and machine. Easily compare the cost of production for each enterprise and make key decisions to improve farm profitability. Generate cash reports for taxes, market value and budgets for bankers while maintaining accrual reports for your own management uses.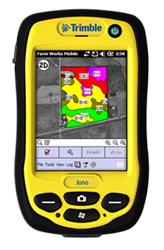 Farm Works™ Mobile software streamlines data management in the field by bundling record keeping, mapping, scouting, soil sampling, and variable rate application into one software solution. Mobile installs to any Windows compatible computer such as the Trimble® Juno®, Nomad®, or Yuma®.