North American manufacturers of the revolutionary Residue Tillage specialist (RTS). Salford has built a reputation for quality, durability and innovation on our line of conservation and conventional tillage tools. Building on this foundation we now offer top of the line air seeding and fertilizing equipment.

Website
RTS (Residue Tillage Specialist) Vertical Tillage tool with idividually mounted coulters. Unparalelled trash flow and a multitude of uses. Features Salford's heavy duty harrow systems for further residue management and field leveling.
9800 Disc Ripper Harrow - True one pass tool. Perfect for aliviating compaction and handling tough high yeild crop residue. Exceptional Salford harrow system leaves a level soil surface in nearly any condition.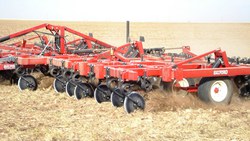 RTS Extreme - Led by 20" shallow concave disc blades the RTS Extreme is perfect for more aggressive operation than the RTS and is capable of incorporating more crop residue.